Company Profile
Company Name
Japan Gray Line Co., Ltd.
Established
February 27th, 1959
Capital
One hundred million yen (100,000,000 yen)
Representatives
Kei Mashimo, President
Correspondent Banks
Kiraboshi Bank; Shinjyuku Branch
Shoko Chukin ; Tokyo Branch
Mizuho Bank ; Shimbashi Chuo Branch
Mitsuisumitomo Bank; Hibiya Branch
Mitsubishi UFJ Bank ; Shimbashi Ekimae Branch
Number of Employees
30
Description of Business
Motivation Marketing / Inbound and Packaged Tours
Registration
No.35 by Commissioner of Japan Tourism Agency (Since August 28th, 1959)
Locations
Tokyo Main Office - Kojimachi Palace 7F, 2-14-6 Kojimachi, Chiyoda-ku Tokyo 102-0083
TEL
Main: +81-3-5275-6511
Incentive Department: +81-3-5275-6521
Inbound Sightseeing Coach Tour Reservation Desk: +81-3-5275-6525
FAX
Incentive Department: +81-3-5275-6577
Inbound Sightseeing Coach Tour Reservation Desk: +81-3-5275-6526
Privacy Policy / Signs ・Terms and Conditions


History
◆ February, 1959
Company established
◆ March, 1959
Started English-guided sightseeing tours for foreign visitors to Tokyo
◆ August, 1959
Officially registered as travel mediation agency by The Ministry of Transport (Registration No. 35)
◆ September, 1961
Inbound travel division established
◆ December, 1963
Outbound travel division established
◆ April, 1970
Over 2 months, chartered cruises to the Osaka World Exhibition
(over 20 thousand passengers on 42 shuttle cruises between Tokyo and Osaka)

◆ May, 1970
Started cable music broadcasting business(Established office in Nagaoka)
◆ August, 1970
Incentive business division established
◆ November, 1973
Company principles established
◆ August, 1983
Capital mark of 50,000,000 yen
◆ October, 1985
Osaka Branch Established
◆ October, 1988
Expansion to business operations at overseas conventions
◆ May, 1989
Our company's projects are broadcasted on nation-wide scale on TBS television
◆ February, 1993
Capital mark of 62,000,000 yen
◆ February, 1994
Shift of business focus from cable music broadcasting to the next-generation communication market
◆ March, 1997
Advancement into Internet business with "World Hotel Hotline"
◆ July, 1997
Awarded the "M,C & I Award" by ANTOR-JAPAN as an enterprise which made "Contribution to Development of Overseas Travel"
◆ April, 1998
Initiation of "Yado-on", an automatic Japanese Inns and spa reservation service
◆ March, 1999
"Yado-on" service expands to availability on the internet
◆ February, 2000
"World Hotel Hotline" partnership with Credit Saison
◆ March, 2000
Capital mark of 122,000,000 yen
◆ January, 2001
Due to government reorganization, registered as Travel Agency No.35 by The Ministry of Land, Infrastructure and Transport
◆ June, 2003
Nagoya branch established
◆ February, 2004
Capital mark of 157,000,000 yen
◆ May, 2005
Main office relocated to Toranomon, Minato-ku, Tokyo
◆ December, 2007
Nagoya branch office relocated to Sakae, Naka-ku
◆ May, 2010
Main office relocated to Koijmach, Chiyoda-ku
◆ March, 2013
Reduced the Capital to 100,000,000 yen
◆ June, 2013
Certificated Quality Assurance Syetem for Tour Operators
◆ March, 2016
Closed "World Hotel Hotline" and "Yado-on" service
◆ February, 2019
60th Anniversary
Message from our President
In today's competitive business world, several innovative, future-thinking corporations have focused on people motivation, demonstrably aiding them in their quest for action. This focus has proven far more effective than the more traditional approach of simply bombarding the potential customer with "standard" advertising programs.

In my opinion, any action one takes is based upon one's individual motives. If we can stimulate one's motives to influence one's decisions and/or actions, product marketing will become much easier.

For more than four decades, Japan Gray Line Co., Ltd.(JGL) has been aware of this modern marketing approach. JGL has expended considerable and continuous efforts honing and developing this effective technique. The goal of JGL's accumulated know-how and experience is to provide JGL's customers better service than anyone else in the business.

"Motivational Marketing", as we call it, is not a newly found logic or technique. It has existed for centuries. You might recall the fabled "Tom Sawyer Story" in which Tom was plodding along on a boring painting job. It was dull, repetitive work. Suddenly, Tom was inspired to motivate other children into helping accomplish the work. Tom realized that he held in his hand the key to marking a brighter more exciting world. His efforts were not limited to simply painting a fence. He had an opportunity to change the appearance of not only a simple fence, but houses, barns and more. Tom was now motivated to instill that same spirit in others.

To implement "Motivational Marketing", I place a great value on both sincerity and thoughtful consideration. Unlike the more conventional heavy advertising programs, I believe intervention with a personal touch makes a great difference.

During our lifetime we have experienced "a giant leap for humanity" in advanced technology. Thanks to ever-improving computer "hardware" and the follow-on advances in "software", we enjoy a more convenient existence. At JGL, through the practice of "Motivational Marketing", we created "HEARTWARE" designed to touch everyone's mind and increase their satisfaction.

We carefully considered that each entity has its own culture. Everyone comes from varied backgrounds and holds an individual, unique position. JGL's goal is to temporarily place our feet into your shoes to tailor your own precisely-individual "HEARTWARE".

JGL is the only company in this field that has employed the full capability of motivation and incentive services. We guarantee you will find a distinct difference between JGL and others. JGL's professional services offer the pinnacle of both service and satisfaction.
Kei Mashimo, President
Japan Gray Line Co., Ltd.
Associated Companies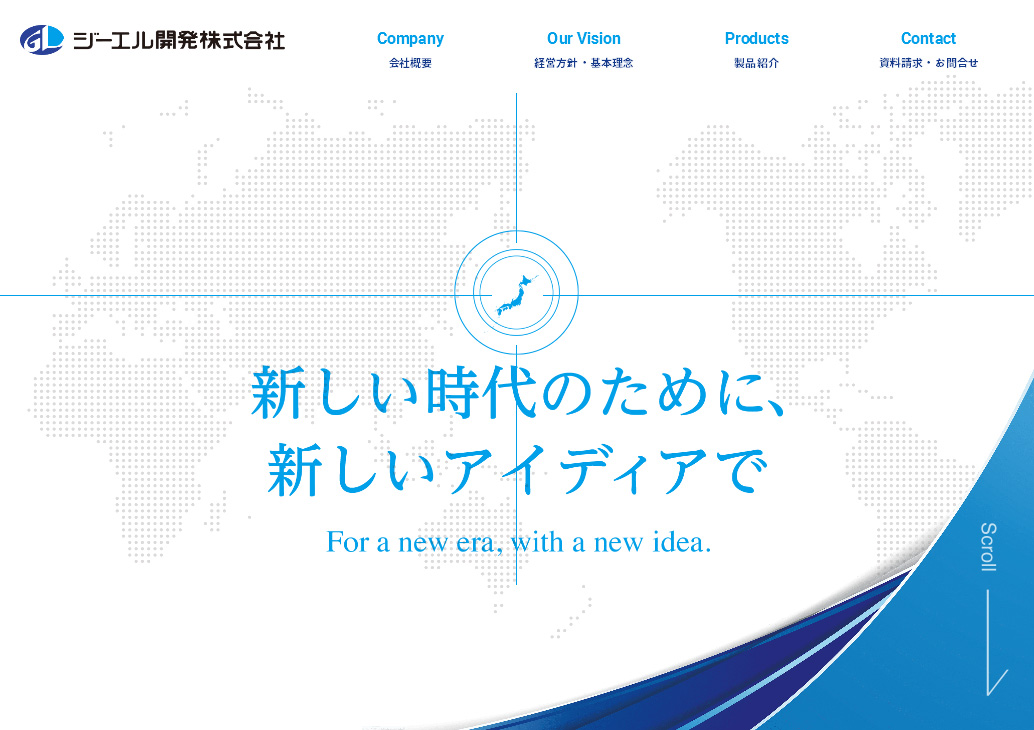 Company Name:GL Development Co., Ltd.

Planning and Sales of Recreational Facilities
・Import and Sales Agent of the "Portable Pitching Mounds"
(from True Pitch Co. - U.S.A.)
https://gld-mound.com/
Tokyo Main Office - Kojimachi Palace 7F, 2-14-6 Kojimachi, Chiyoda-ku Tokyo 102-0083
TEL +81-3-5275-6558
FAX +81-3-5275-6580